Pleasure Tour Giveaway
Posted on September 07 2016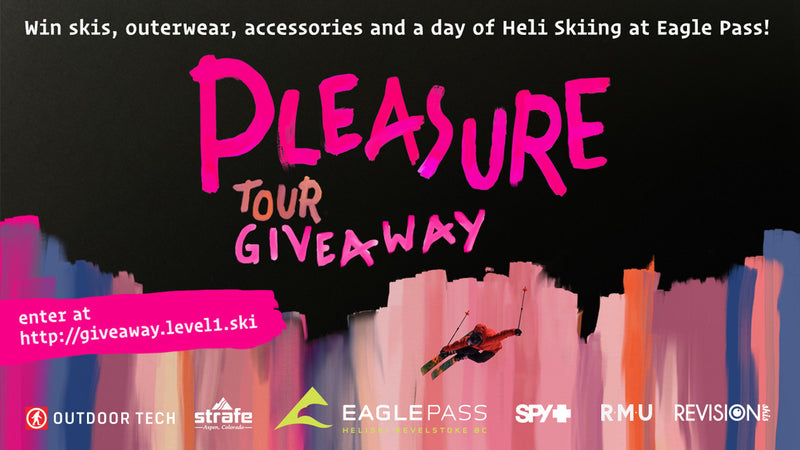 Fill out the form and you can win monthly prizes of skis, outerwear and accessories from our tour sponsors RMU, Strafe Outerwear, Spy, Outdoor Tech, Revision Skis. At the end of the tour each entry has a chance to win the grand prize of one day Heli-Skiing at Eagle Pass for you and your friend worth $2782!!!
About the Grand Prize
Your '1 day' Day Heliskiing Package includes:
• 6-8 runs per day
• Heliskiing via B2 A-Star helicopter, in up to 4 groups of 4 skiers.
• Professionally certified ski guides with extensive Heliski experience and local knowledge
• Gourmet lunch in the mountains and Après Heliski
• Helicopter safety and avalanche training
• Tracker 2 Digital Beacon, BCA shovel, float airbag, personal radio and probe
• Specially selected powder skis and poles or snowboards to maximize your ski experience

Each guest would be responsible for:
• Breakfast and Supper
• Accommodation
• Transportation to/from the meeting point each morning
• Insurance (Optional)

Price Per Guest:
• 1 Day Heliskiing: $1,325 plus 5% tax
Top 4 reasons to choose Eagle Pass

• Small Group Heliskiing – We ski in groups of 4, instead of 12. Not only does this enhance safety considerations, it also has other benefits such as better grouping by ability, more time skiing - less time waiting on other group members and more flexibility to access interesting and tight terrain such as chutes and gullies. Just yourself, three friends, and your guide in each group!

• Safety - Eagle Pass Heliskiing surpasses all industry safety standards. To manage and minimize any such risks each Guest is equipped with avalanche safety and rescue equipment (BCA float airbag, Tracker beacon, probe, shovel, and personal radio) and attend two comprehensive safety briefings before going Heliskiing. Eagle Pass shares in and understands the thrill of adventure, discovery, and riding challenging terrain. We only follow one important rule: Everyone comes home safely at the end of the day.

• Terrain - Our area is known for remarkably deep snow. Because the west slope of the Monashees is the first mountainous area east of BC's Coast Mountains (Whistler), we get near-coastal amounts of snow with cooler interior temperatures resulting in the incredibly deep dry powder that Heliskiers return for. This high quality snow, coupled with perfectly spaced trees, open bowls and glaciers of the Monashees, result in what many experienced Heliskiers consider being the most exciting deep powder helicopter skiing in the world. Just ask anyone who has been here, watch a ski film, or read a magazine. The Monashees are truly in a class all their own. With over 345, 000 acres set aside just for you, fresh tracks are always guaranteed!

• We Heliski Every Day – We are very pleased to record just 2-3 down days each season. This means we are out skiing 97 to 98% of the time! The reason why we can go ski each day: lodge proximity to terrain, famous Monashee Mountains tree skiing, and small group sizes!

Availability:
We fly every day with our Day Heliski program. We have availability for your group any day you choose.
More info at www.eaglepassheliskiing.com