Rail Jam Tour – Sugarbush
Posted on December 29 2022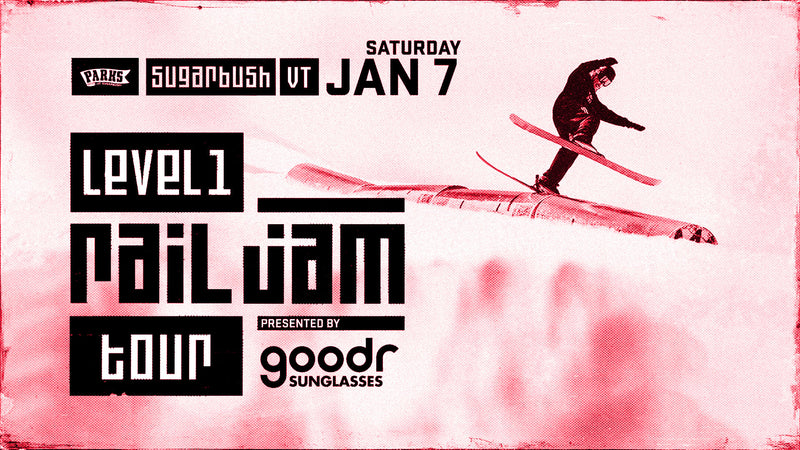 Sugarbush, VT - January 7 2023
SPECTATOR INFO: The event will take place at the Mt. Ellen base area at the bottom of the Inverness run. Walk past the bottom of the Inverness lift and follow the Level 1 flags. Spectator attendance is encouraged; we'll have a raffle, music, and most importantly some killer action. See the event schedule below. 
 Event schedule:
January 7th 2023
Rider check in and practice: 10am-12pm
Riders meeting: 12:15
Open Jam: 12:30-2
Finals Jam: 2:15-3:15
Awards: 3:30
About the Level 1 Rail Jam Tour:
For 23 years, Level 1 Productions has been at the forefront of documenting and supporting freeskiing.  For the last 9 months, we've been hard at work on the next evolution of that legacy.   In-person events in skiing are few and far between; spectator events in skiing are even harder to find; and open-entry events with legit prize money are all but gone. 
We're tackling all three of those problems at once. Level 1 is extremely proud to announce our inaugural Level 1 Rail Jam Tour, presented by Goodr Sunglasses and supported by K2 Skis, Wells Lamont Snow, Line Skis, SOUNDBOKS, Bern Helmets, and J Skis. Each event will have a $10,000 prize purse - $50,000 total over the course of the whole tour!
Spectator attendance is encouraged! We'll have an MC announcing the action at each stop, and we'll be running a FREE raffle for spectators giving away skis, goggles, sunglasses and more courtesy of our partners.  Stay tuned to Level 1 social media channels for details on event start times and other info.
Prizing breakdown:
$4,000 Men's winner-take-all

$4,000 Women's winner-take-all

$2,000 cash for tricks, handed out during the event
Stay tuned to the Level 1 Instagram for all tour announcements and to make sure you know when registration opens - or subscribe to SMS updates here to make sure you don't miss any info!