Raffle for Justice: And the Winners are...
Posted on July 01 2020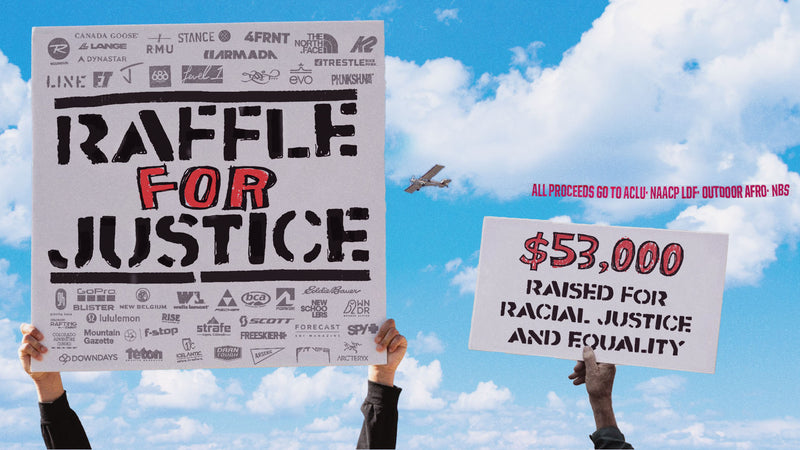 We are proud of and encouraged by the response from our community and the widespread support of our initiative to raise money to support organizations doing important work to support racial justice, equality, and opportunity. Together we raised $53,000 through 13,113 tickets sold through 1316 donations.
We'll be sending checks for $13,500 to the American Civil Liberties Union (ACLU) Foundation, NAACP Legal Defense and Educational Fund, Inc., Outdoor Afro, and National Brotherhood of Skiers.

We recognize that this is just a first step both in our own actions, and in working with our brand partners, friends, and our fans to support national initiatives, and create more opportunity and equality within our sport and community. Stay tuned for more updates in the coming months.

And with that, we extend a heartfelt 'Thank You' to everyone that played a role in the Raffle For Justice- whether you or your brand helped by donating a prize, purchasing a ticket, or spreading the word through your channels.
And the 130 winners are:
If your name is on this list you will receive an email from Level 1 or the partnering brand or your prize will be shipped directly to your provided address. Congratulations!
The North Face 13 x Gift Packs with Outerwear & Gear Approximate MSRP: $800 each:
Jamie Smith, Alex Shaw, Jack Anderson, Andrew Madden, Ben Weider, Carter Rauch, Colin Clauset,
Denise Lynch, Leif Tollefson, Marc Janas, Sam Vredenburgh, Jake Lee, Bailey Lipschultz
The North Face 1x Tom Wallisch autographed Outerwear Kit Approximate MSRP: $800: Eric Blaser
Rossignol 1x BLACKOPS Sender Skis MSRP: $800: Laura Steele
Lange 1x XT3 130 Ski Boots MSRP: $900: Jonas Nissen
Dynastar 1x M-Free 108 Skis MSRP: $800: Hayden Wright
GoPro 2x Hero 8 Camera Kits MSRP: $449: Mario Lagnese, Adam Skalleberg
RMU 1x 2019 North Shore 175 Skis MSRP: $399: Alexander Rajka
J Skis 1x THE FRIEND "HORNET" 117 Pow Ski MSRP: $749: Ross Minton
4FRNT 1x inThayne Ski 188 MSRP: $649: Reed Hendrickson
K2 1x 2021 Reckoner 112 MSRP: $699: Zach Tornga
Marker 1x Jester Binding Limited Edition MSRP: $300: Tyler Godman
Line 1x Sick Day 114 190cm Skis MSRP: $700: Kate Lips
Full Tilt 1x 27.5 Tom Wallisch Pro Ski Boots MSRP: $600: Jackson Zielinski
Tall-T Productions 2x Assorted Prize Packs: $200: John Padilla, James Thompson
Phunkshun Wear 1x Assorted Prize Pack Value of $200: Alex Rich
BCA 1x BC Link™ Two-Way Camo Radio MSRP: $130: Nicholas Gilbert
New Belgium 1x Fat Tire Cruiser Bike MSRP: $500: Carson Bronsert
Gravity Haus Breck 1x Guided adventures from Colorado Adventure Guides and Colorado Rafting Company
and 2 Person Stay at Hotel. Approx. Retail Value: $750: Sabrina Edelman
Gravity Haus Vail 1x Guided adventures from Colorado Adventure Guides and Colorado Rafting Company
with 2 Person Stay at Hotel and Dinner with Wine Pairing. Approx. Retail Value: $1000: Gavin Braun
Freeskier Free Magazine Subscription to the first 500 domestic donors
686 1x Gift Certificate: $1,000: Brock VandenBerge
Wells Lamont 2x Assorted Gloves & Mittens Pack MSRP: $50:
Karl Morcott, Matthew Williams
Fischer 1x Ranger 102 FR Skis MSRP: $799: Hilary Zalar
Eddie Bauer 1x Katabatic Tent MSRP: $600: Gordon Woodcock
WNDR Alpine 1x 19/20 Intention 110 Skis MSRP: $699: Fadi Khuri
Mountain Gazette 4x Cover Photo packages MSRP: $250:
Anthony Tripaldi, Carl Beck, Nicholas Zachmeier, Paul Merryweather
f-stop 1x Dalston Camera Backpack MSRP: $149: Nathan Challis
Icelantic Skis 1x Pair of Skis from the 20/21 line MSRP: Approx $500: Ethan Ho
Strafe 1x Men's Drifter Jacket - Navy MSRP: $249: Sam Pattinson
Strafe 1x Women's Incubator - Candy Red MSRP: $259: Lisa Rieck
TGR 1x Further Toric Goggles and sticker pack MSRP: $175: Josh Anderson
Level 1 1x Gift Card: $200: Brett Watson
Darn Tough 1x 6-pack of socks MSRP: $150: Kasey Fish
Downdays 5x Books "Ski Stories 2019" MSRP each: $20.19: 
Emma Jerome, Brock VandenBerge, Cameron Macfarlane, Casey Hogarth, Jake Duncan
Forecast 25x Magazine Subscriptions MSRP each: $29.99:
Alexander Fokides, Aaron Julius, Alex Madden, Andrew Evans, Andrew Rice,
Andrew Frederick, Anna Ferreira, August Fleer, Chad Wisnowski, Dylan McDaniel,
Garin Fons, Garrett Bright, Jacob Newton, Daniel Jensen, Kaitlin Hill,
Matthew Walton, Mitchell Bacon, Peter Killory, Ashley Rovner-Watson,
Alden Watkins, Karl Stange, Jamie Starr, Tyler Kendall,
Kyle Wehmanen, Lisa Rieck
Newschoolers 1x John Spriggs Painting: Jean-Nicholas Di Marzo
Newschoolers 1x Phil Casabon signed print Estimated Value: $250.00: Brian Smith
Pit Viper 10x Shades and Swag Packs Value of $100 each:
Ashley Collins, Hayden Wright, Taro Matsunami, Daniel Jensen, Keith Jensen,
Kenneth Berreman, Nathan Taylor, Peter Killory, Scott Hawk, Shannon Cantlon
Scott 1x Speedguide 89 178cm Ski MSRP $700: Carson Tobias
Scott 1x Slight 100 178cm Ski MSRP $850: Samuel Smith
Spy Optics 1x Discord Sunglasses & Legacy Snow Goggles MSRP: $390: Tyler Muntz
Stance 2x Limited Edition Julian Klincewicz UNTITLED Box Sets MSRP: $150:
Billie Jo Egan, H P Boyle
evo 1x Armada ARV 96 UL Skis 2020 MSRP: $599: D. Lynch
LuLu Lemon 1x $750 gift card: Derek Billings
Armada 1x 20/21 ARV 96 MSRP: $600: Liam Carrigan
Armada 1x 20/21 ARV 116 JJ MSRP: $825: Kameron Smith
Arsenic Anywhere 1x Gift Card Value of $200: Kaitryn Hayes
Canada Goose 1x Rossclair Parka Blue Camo MSRP: $995: Elsa Smith
Rise Brewing Co 10x Free Case of assorted product MSRP: $35: 
Alexander Fokides, Kevin Vanarsdall, Sam Mack, Matt Owen, Jaret Navarro,
Ryan Faye, Josh Anderson, Thomas Soohoo, Carson Bronsert, Thomas Weed
Trestle Bike Park 2x Season Pass for the Bike Park at Winter Park, CO MSPR: $329:
Girish Narayanswamy, Brandon Munns
Arc'teryx 1x ATOM LT Jacket and Hoodie of choice MSRP: $380: Glenn Mottau
Blister 10x One-Year Memberships MSRP: $60: 
Ben Mazur, Brett Watson, Brett Landry, Carl Beck, Carter Hokanson, Denise Lynch,
Henry Haselton, Marshall Clark, Ashley Rovner-Watson, Stephen Sosnicki
Armada x Sammy C 1x White Walker Pro Model Ski: Andrew Frederick
Avanti Food & Beverage 1x Gift Card Value of $100: Anthony Engle