Rail Jam Tour – Trollhaugen
Posted on January 19 2023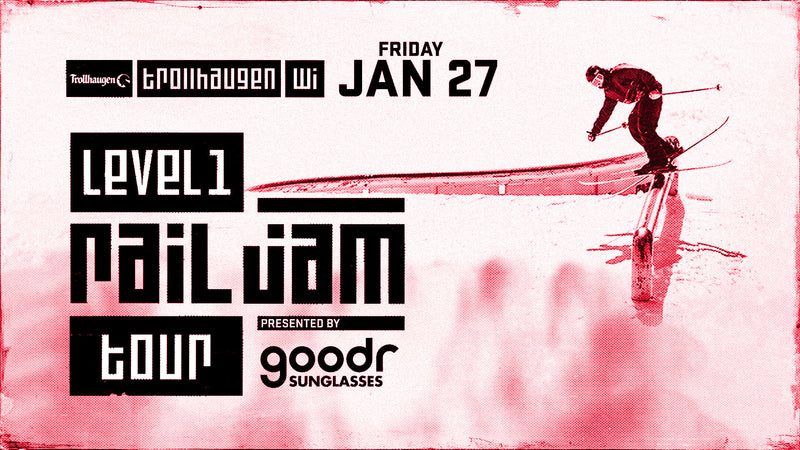 Trollhaugen, WI - January 27 2023
Event Details:
Event is open to freestyle skiers ages 13 and up.

Waivers are REQUIRED for all participants. If under the age of 18, a parent/guardian must sign. There are 2 waivers; Level 1 Waiver, & Trollhaugen Waiver.

Helmets are REQUIRED for all competitors. If you do not own a helmet, we will have limited helmets on loan courtesy of our friends at Bern Helmets. Trollhaugen also has helmet rentals for $10.

All competitors MUST have a valid lift ticket or Season Pass for Friday 1/27. Purchase yours NOW at Sales.Trollhaugen.com as Fridays sell out in advance by Thursday afternoon. Once tickets are sold out, there is nothing we can do to assist. If you do not have a lift ticket, your space will be forfeited. Competitors can purchase a 10am All Day Lift Ticket, or a 3pm Night Ticket. The 9pm Late Night Ticket cannot be used for the Rail Jam.
Competitors must check in at the Level 1 tent at the bottom of Tomtebakken between 4:30 and 5:30pm. If you arrive after 5:30pm, your space will be forfeited.
All competitors MUST have freestyle skiing experience, and be comfortable hitting intermediate to advanced terrain park features.
We will be splitting the jam into 3 co-ed heats.
A handful of local luminary judges will tap people into the Finals Jam after each of the 3 heats. Finals jam is rider judged.
All competitors will receive a Level 1 Rail Jam Tour T-shirt and sunglasses courtesy of Goodr (T-shirt sizing first-come first-serve during event check in)
$10,000 prize purse:
- $4,000 men's winner-take all
- $4,000 women's winner-take all
- $2,000 cash for tricks
Event Schedule for Friday (1/27):
Check in: 
4:30-5:30
at the bottom of Tomtebakken
Practice: 5:00-5:30pm
Rider Meeting: 5:30pm
Group 1: 6-6:30pm
Group 2: 6:40-7:10pm
Group 3: 7:20-7:50pm
Finals: 8-8:30pm
- Top 10 skiers from Groups 1,2 & 3            
Awards: 8:45-9:00pm
-On hill at Tomtebakken
Location: Jam + Awards will take place on Tomtebakken Terrain Park. Spectators on skis/snowboards must have a valid lift ticket. Spectators on foot must check in at the Ticket Office for a free Walking/Spectator Ticket. Tomte Park is also visible from the Skolhaugen Lounge. Trollhaugen 2232 100th Ave, Dresser, WI 54009
About the Level 1 Rail Jam Tour:
For 23 years, Level 1 Productions has been at the forefront of documenting and supporting freeskiing. For the last 9 months, we've been hard at work on the next evolution of that legacy. In-person events in skiing are few and far between; spectator events in skiing are even harder to find; and open-entry events with legit prize money are all but gone. 
We're tackling all three of those problems at once. Level 1 is extremely proud to announce our inaugural Level 1 Rail Jam Tour, presented by Goodr Sunglasses and supported by K2 Skis, Wells Lamont Snow, Line Skis, SOUNDBOKS, Bern Helmets, and J Skis. Each event will have a $10,000 prize purse - $50,000 total over the course of the whole tour!
Spectator attendance is encouraged! We'll have an MC announcing the action at each stop, and we'll be running a FREE raffle for spectators giving away skis, goggles, sunglasses and more courtesy of our partners. Stay tuned to Level 1 social media channels for details on event start times and other info.
Prizing breakdown:
$4,000 Men's winner-take-all

$4,000 Women's winner-take-all

$2,000 cash for tricks, handed out during the event
Stay tuned to the Level 1 Instagram for all tour announcements and to make sure you know when registration opens - or subscribe to SMS updates here to make sure you don't miss any info!