SuperUnknown is returning to Mammoth Unbound for its 20th anniversary!
Posted on January 25 2023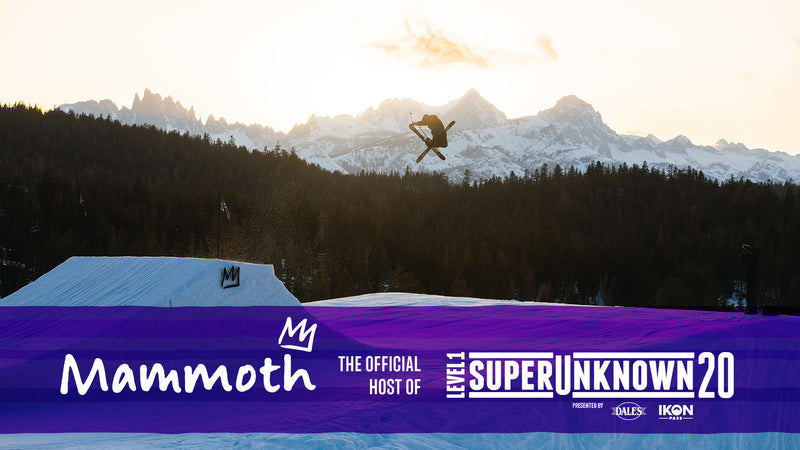 Denver, CO (January 24th, 2023) - Level 1 is excited to announce that Mammoth Mountain, CA is returning as the official host for this year's SuperUnknown Finals, bringing 15 of the world's top men's and women's ams to Mammoth Lakes, CA from April 19-26. Submissions for SuperUnknown 20 will open on February 27th and close on March 13th - so start getting your clips together! 
To celebrate the 20th anniversary of SuperUnknown, we will also be inviting a bunch of the top freeski talent from all over the world to ski with us- from past SuperUnknown winners, to OG's we all know and love, to today's most skilled athletes. This year's finalists will have a chance to throw down with some of the greatest to ever do it during a week long session and park shoot. More info to come on who will be showing out- so stay tuned to @level1 instagram to keep updated!
Presented by Oskar Blues Dale's Pale Ale and Ikon Pass
About SuperUnknown:
SuperUnknown was started in 2003 to help discover and expose the best unsponsored up and coming talent in the game, and give them a shot at making a name for themselves outside of the traditional competition scene.
The first contest of its kind, entrants were asked to submit a simple promo video showcasing their skills, talent, bag of tricks, style, and personality. No résumés, no still photos, no essay questions- just pure unfiltered video action. Entries were reviewed and judged by Level 1's staff and athletes. The most impressive skier each year took the title and was awarded a chance to film with Level 1 and given a foot in the door of the industry. 20 years deep, SuperUnknown is the biggest and best open video contest in action sports with over 100 entries coming in from top amateurs and the best undiscovered talent around the world.